Natural gas is a clean energy source.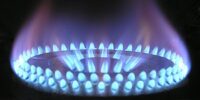 Natural gas is a clean energy source that has helped to lower our nation's carbon emissions and will continue to do so. Natural gas is also reliable and highly efficient. Natural gas is the fuel we rely on today and will require in the future for everything from warm convenience of home and water heating to providing the power needed when we need it most.
Natural Gas
Natural gas combustion produces far fewer pollutants per unit of energy delivered than coal and oil combustion, with emissions of carbon dioxide being reduced by 50% and 30%, respectively.
The main fuel used in the United States to produce electricity is natural gas. By replacing coal with it, emissions from the electricity sector have been brought down to levels last seen in the middle of the 1980s.
Since 2005, natural gas combustion emissions (in all sectors) have increased by almost 43%, or 505 million metric tons.
Natural gas facilities (both new and existing) will need to deploy carbon capture, utilization, and storage capabilities (or equivalent sequestration-based offsets) by a specific date in order to meet mid-century net-zero climate goals.