April as National Safe Digging Month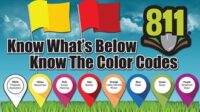 Natural Gas Operators acknowledge and celebrates April as National Safe Digging Month every year, with the goal of reminding our customers, stakeholders, and team members about the significance of calling 811 or (1-800-DIG-RITE ) before digging.
Calling 811 can save lives and money by alerting utilities like us to the fact that we need to send out someone to mark the location of our underground infrastructure.
Simply dial 811 or (1-800-DIG-RITE ) a minimum of 3 days before beginning any excavating activity, such as constructing a fence, gardening, or embarking on a large home repair project.
With the arrival of warmer weather, businesses and homeowners may begin projects that may include excavating near subsurface utilities. We can assist to ensure that everyone is digging safely by spreading the information about 811.
We'd appreciate your assistance as we attempt to educate various stakeholders throughout the month. Here are some ideas about how to get the word out:
Before beginning any spring work, remind your friends and neighbors to dial 811 (1-800-DIG-RITE) or visit Mo1call.com.
Make a commitment to dialing 811 or visit Mo1call.com before venturing on any outdoor projects.
Share our most recent social media updates with your friends and family.