Homeowner Call Before You Dig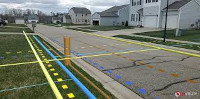 Homeowner Call Before You Dig
A simple way to prevent underground utility damage is to Call 811 Before You Dig and request FREE underground utility locates.
How to Request a Locate
Before you start digging, give yourself at least two business days and:
Mark out the area you plan to dig, preferably with white paint or white flags.
Call Missouri One Call by dialing 811.
Be prepared to provide your dig project details such as:
Where you're planning to dig, and if the site is pre-marked with white paint or flags.
The type of work you will
Pre-marking your dig site with white paint or flags helps utility companies identify your dig area quickly and accurately.
Calling 811 notifies local utility companies your intent to dig. A utility locator will respond by marking the approximate location of underground utilities according to the APWA color codes, so you will know what's below and can safely dig.
It is against Missouri state law to dig without calling for a utility locate. Failure to call can result in fines and charges for damages. For additional information on excavation safety go to www.MO1Call.com